Why Apex Group of Colleges LMS is better than others?
A digital learning platform is called a Learning Management System. It is also a software application for the administration,   documentation, delivery of educational courses, training programs, learning, or development programs. The concept of the learning management system has emerged with eLearning. The main job of a Learning Management System (LMS) is to focus on the corporate market. Typically, a learning management system provides an instructor with a way to create and deliver content, monitor student participation, and assess student performance. A learning management system may also provide students with the ability to use interactive features such as threaded discussions, video conferencing, and discussion forums.
Learning Management System is a great benefit for remote learners because they can have easy access to their education. With the help of the Learning Management System (LMS), you can manage courses and learners and you can even improve your efficiency.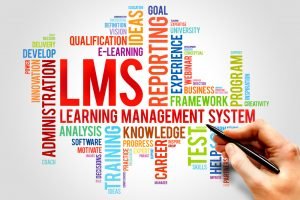 Benefits of Learning Management System (LMS):
Benefits of Learning Management System are a great blessing for remote learners. By introducing the Learning Management System, an institute can easily help students with their education which is stopped due to Covid-19.
Cut down Cost:
The costs which come with traditional classroom teaching methods are now reduced. The training course of your staff and the development programs take too much of your budget. Now you don't have to pay for that. You just have to release your Learning Management System site into your organization and then your savings will be automatically increased.
Monitor & Assess Progress:
The Learning Management System offers you a great feature in which you can easily track your student's monitor to check the progress report that whether the students are responding to digital learning or not. A great Learning Management System will make monitoring and accessing more smooth for the students and teachers.
Flexibility:
The Learning Management System gives flexibility to students to study their material at their place, whether it will be on the laptop, desktop, or on mobile but the thing is as long as they have the internet.
Reducing Learning Time:
By using the Learning Management System your learning time can be decreased. Instead of sitting for like eight hours in your school or college, LMS can have your course material at any time you would like to study and this makes the learning more enjoyable and can make a friendly environment.
E-commerce:
E-commerce which is also known as Electronic-commerce allows you to purchase goods, products, or other things on the internet. You can also provide services to people through the internet by using E-commerce. The transaction, funds, data of money are also considered as E-commerce. In general, the commercial transaction which happens on the internet is called E-commerce.
Easy Upgrades:
The Learning Management System can now easily upgrade the content. This is because they are upgrading data by a centralized place or location, which makes them easy to upgrade content as fast as they can such as forums or specifications.
LMS of Apex Group of Colleges:
The Apex Group of Colleges has proudly introduced a Learning Management System which is very advance as compared to other colleges. This Learning Management System has come up with those features which other colleges have not even though yet. Now Apex Group of Colleges is also offering additional courses. Now they are working to build up the value of their Learning Management System worldwide.
Apex Group of Colleges has done excellent work on its Learning Management System that students are taking full advantage of it because their teaching environment is quite friendly. Students can now miss not even a single class because the Learning Management System of Apex Group of Colleges has done a great work that if any student misses their class, they can have the lecture easily by just contacting to their instructors or by emailing to their Learning Management System's email address.
Features of Apex Group of Colleges LMS:
As you know in this pandemic, the apex group of colleges stepped forward to keep its students educating through an online learning management system. To make sure that our students don't have to face any interruption in their ongoing studies apex group of colleges has launched a fully advanced and organized learning management system for its students. The first batch of Pre-Engineering and Pre-Medical is being educated through an online learning management system introduced by Apex Group of Colleges.
Apex Group of Colleges is very proud to launch a world of preparations with the name of TEST GURU. TEST GURU is an online platform for the preparation of all kinds of Entry Test in Pakistan like MDCAT, ECAT, NUST, NUMS, FAST, GIKI, PIEAS, and many other universities entrance tests. As you enter into the world of test preparations with TEST GURU, we assure you simplicity, user-friendliness, and depth of knowledge that you would have never experienced before. Easy to understand study materials, practice tests, mock tests, fully solved questions with detailed step by step solutions, smart hints on mouse-over energies your brain, and boost your confidence.
Certification:
In this pandemic, only Apex Group of Colleges is offering undergraduate courses in which you can in-roll in these courses:
BS Physics
BS in Computer Science
BS Chemistry
BS Zoology
BS Math
Bachelor of Business Administration
Bachelor of Commerce
Also, the master programs are also being offered only by Apex Group of Colleges which includes:
Master of Business Administration
Master of Science in Computer Science
Master of Arts in English
Master of Arts in Urdu
Master of Science in Psychology
Course Timeline:
The timeline of a course depends on the courses but the Apex Group of Colleges aimed to cover up the entire course as fast as they can. It is not a big deal for Apex Group of Colleges to cover up the course as fast as they can because now they have launched the fully organized and advanced Learning Management System. Through this system, they can easily cover up the course syllabus as fast as they want to.